In my last post, I mentioned Michael Gorman's Reading Revelation Responsibly. That book is definitely one you need to own. Another book on Revelation that I highly recommend is J. Nelson Kraybill's Apocalypse and Allegiance: Worship, Politics, and Devotion in the Book of Revelation. It's been a while since I've read it, but it left a lasting impression on me. It's one of the first texts I read on Revelation.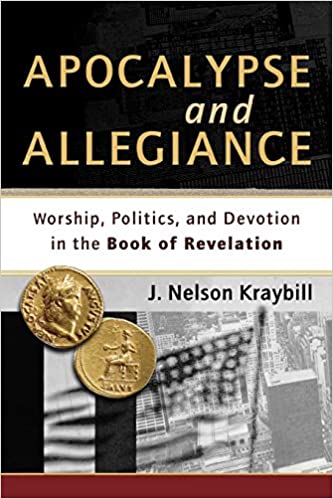 The book is geared toward a wide audience. It isn't filled with a lot of academic jargon or technical lingo. Its aim is to help folks gain a sense for the historical context of life in the first-century Roman empire—particularly in regard to the social and political situation of the churches in Asia Minor. If you're unfamiliar with the imperial cult (the worship of Caesar), this book would be a good introduction to that phenomenon. One goal of the book is to help readers think critically about the practical aspects of Revelation's message. At the end of every chapter, for example, there is a list of questions designed to get readers to think deeper about that chapter's content. This is followed by a helpful section called "Living the Vision," which offers a short discussion about current events and/or some modern day political issue. Kraybill uses this part of the book to challenge readers to flesh out life as a follower of the Lamb.
To purchase the book, here's a link to Amazon. Here's the blurb from the back of the book:
In this lively and accessible introduction, J. Nelson Kraybill places the book of Revelation in its first-century context, opening a window into the political, economic, and social realities of the early church. He also explores the relevance of John's apocalypse for the spiritual life of believers today by focusing on twenty-first-century issues of empire, worship, and allegiance. Photographs and other visuals illustrate the narrative throughout, and discussion questions invite further personal or group reflection.